April 29, 2015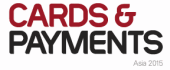 HONG KONG, 29 April, 2015 - Advanced Card Systems Ltd. (ACS, a wholly owned subsidiary of Advanced Card Systems Holdings Ltd., SEHK: 8210), Asia Pacific's top supplier and one of the world's top 3 suppliers of PC-linked smart card readers (Source: Frost & Sullivan), participated in Cards & Payments Asia 2015, which was held from 22 to 23 April, in Singapore. Michael Chan, Assistant Product Marketing Manager, conducted a presentation entitled, "What Makes Migration to EMV a Smart Bet for the Banking Sector."
EMV (Europay, MasterCard and Visa) is a global secure standard for payment transactions. It covers card-present transactions using a contact chip interface. Currently, almost 30 percent of card-present transactions worldwide are EMV. These figures are expected to be driven up further by high fraud rates, and the lack of cost-effective processing and reliable communications infrastructure.
With EMV, banks benefit from more approved transactions and greater revenues. Banks are also able to reduce expenses stemming from the need to reissue cards due to card counterfeiting. Michael presented business cases to demonstrate the impacts of EMV in an organization. He emphasized, however, that EMV deployment is more than a matter of buying new technology; it is also a matter of finding suitable resources and partners.
With the right resources and partners, banks can ensure that migration to an EMV system will progress painlessly. There are quite a number of considerations associated with EMV migration. An issuer should be able to address concerns that include key management, card personalization, PIN assignment, branch issuance, clearing and settlement, and consumer education. Meanwhile, the acquirer-in this case, the banking sector-will need to be able to address concerns regarding customer support, merchant training, terminal management, and so forth.
Transitioning to EMV will introduce a dynamic element to each transaction that that elevates security. In addition, EMV has risk management capabilities that issuers can maximize when authorizing transactions at point-of-sales (POS), making security flexible. For more information about EMV and EMV solutions, email [email protected].
About ACS
Advanced Card Systems Ltd. (ACS, wholly owned subsidiary of Advanced Card Systems Holdings Ltd., SEHK: 8210), founded in 1995, is Asia Pacific's top supplier and one of the world's top 3 suppliers of PC-linked smart card readers. ACS is the winner of the Product Quality Leadership Award for Smart Card Readers from Frost & Sullivan. In 2010 and 2014, ACS was listed in Forbes Asia's "Best Under a Billion", an inter-industry list comprised of 200 top-performing publicly listed companies in the Asia-Pacific, with sales between US$5 million and US$1 billion. ACS develops a wide range of high quality smart card reading/writing devices, smart cards and related products and distributes them to over 100 countries worldwide. Visit ACS at http://www.acs.com.hk/.